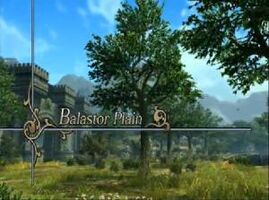 Balastor Plain
is a plataeu and plain put together. It is the only passageway to
Parma
, and it has been overrun with Monsters. This place includes a Waterfall Cave, Kibble Forest, and a sea-view.
Balastor Plain has a mojor role in the story. Here are the parts of the story that involve Balastor Plain.
You must head south until you reach a river and a bridge. Cross it and find Parma's Front Gate.
From Parma
Edit
You must escort Raus' Caravan to Princess Cisna's Ball.
Where's Setti?
Edit
You must find Setti in the Waterfall cave in the Northeast section of the Plain.