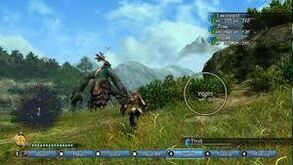 Greydall Plain
is a mountainous-plain region in WKC. It is no longer traveled, as it has been overrun by Monsters. There are many memorials here, in order to honor a family. It also has a river, lake, and sea-view. It is the passageway to the mountains.
Leonard
and
Yulie
use to play here when they were kids. It is the place where
Cyrus
,
Caesar
,
Yulie
, and
Balandor
's
Knights
fought to protect
Balandor
from the
Magi
,
Gigas
, and the
Sun King
.
Greydall Plain has no real importance in WKC, however it is the battlground for Balandor in WKC 2.
Nordia Hunt
Edit
The Nordia Tunnels are located on the Northeast corner of Greydall Plain.
WKC 2: Defence Against the Magi
Edit
You must use the Dragon Knight, Moon Princess, and White Knight to protect Balandor against Grazel and the Sun King!
Boss Fight
Edit
The White Beast: Ahwahnee
Svlyian Savage Troll