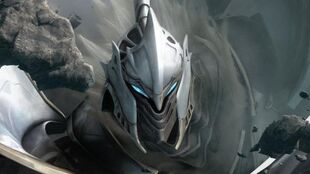 See also, Knight's Ark
Description
Edit
The Incorruptus (シンナイト, Shinnaito or "Sin Knights"?) are weapons of war created by an ancient civilization that has long since vanished. They resemble large suits of armor and are commonly known as Knights.
Background
Edit
The Knights are seven-meter tall weapons made by people known as the Ancients and were used during the Dogma War. The Yshrenian Empire used the Incorruptus in order to defeat the Athwan Empire. The war ended with no clear victor, and both sides suffered great losses. In order to hide these terrible weapons, the Knights were stored in temples to be forgotten...until now.
According to Eldore, there are thought to be five Sin Knights in existence, most of which were sealed by Queen Mureas during the Dogma War. To use a Sin Knight, a contract must be made using an item called a Knight Ark, which varies from knight to knight. Once a contract is made, it is impossible for anyone else to touch the Knight's Ark. If a worthy candidate touches it, however, they will gain control of the Sin Knight for as long as they live; the only known way to break the contract is by the death of the user. Leonard interacts with his Sin Knight through visions of a creature called Phantom, but it is unknown what others perceive.
The Five Sin Knights
Edit
During the Dogma War ten millennia ago, five Knights were created by the Yshrenian Empire. The Knights are as follows:
It is believed that Madoras can summon and indirectly control all of the Knights. He is able to manipulate the Knights during the secret GeoNet Missions to Vellgander. Also, he claims the Knights are lost to Mureas which means he could be able to take the Arks and/or break the bonds with the Pactmakers.
New Knights
Edit
As of White Knight Chronicles II, there have been countless advances in technology allowing the creation of Artifical Knights as well as an appearance of a new knight.