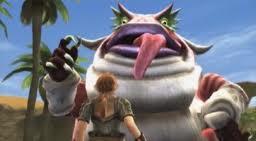 The Lagnish Desert
is a location in WKC that is massive. The Desert Town
Albana
is located in the middle, as well ruins to the south. It is frequently traveled by merchants, but is a dangerous journey because of all the monsters. It is where
Dragias
landed his Monoship to search the ruins.
The Lagnish Desert is important to advancing the story in WKC.
Albana is located to the east of where you enter. It is located by a star.
The Ruins are to the south of Albana. Go there to fight 3 Gigas and the Grand Gigas as well as advancing the story.
To The Flanders
Edit
To get to the Flanders, you must traverse south, then go west instead of east from the ruins, then cross the bridge to the Flanders.
Boss Fight
Edit
3 Gigas
Ad blocker interference detected!
Wikia is a free-to-use site that makes money from advertising. We have a modified experience for viewers using ad blockers

Wikia is not accessible if you've made further modifications. Remove the custom ad blocker rule(s) and the page will load as expected.