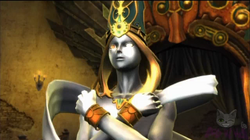 Statue of Lepanne is a bust of Goddess of Lépanne. It is a beautiful figure which contains two firestones as eyes. Count Drisdall saw it at a gallery with his wife and wanted to obtain it. It is known that Caesar is a creator of fake Statue, thus hinting that he is skilled warrior (eyes as mentioned require firestones). Count says in his letter that he knew that the Statue from Caesar is fake, but thinks it is the most valuable antique in his collection.
Ad blocker interference detected!
Wikia is a free-to-use site that makes money from advertising. We have a modified experience for viewers using ad blockers

Wikia is not accessible if you've made further modifications. Remove the custom ad blocker rule(s) and the page will load as expected.